Walking the Mind
5 July 2018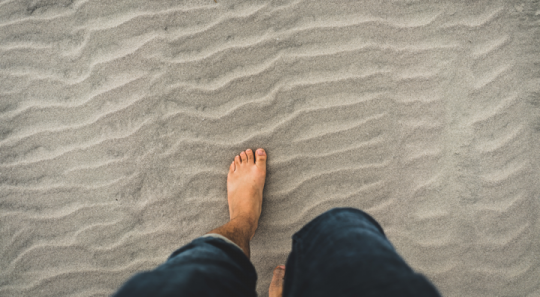 **
The legs move and the mind turns. It's one of the oldest tricks in the book for generating new ideas and a fresh perspective.
---
It's not just the change of scenery that helps your mind cue up a new internal movie. It's the walking itself. There is a bale of research about how walking stimulates creativity. There is much anecdotal evidence also about people like Steve Jobs often invited colleagues out on a walk when they needed to discuss something deep.
Taking a break during your workday for a walk is one of the smartest things you can do. If you are sitting for an hour at a time, you are sitting for too long. Moving around is good for the spine, too. A walk, or movement of any kind, is also good at the end of the day. Nearly every day as I bike-ride home, my mind floods with the ideas I didn't get to during the workday. I attribute it to increased blood flow to the brain, and it also has a lot to do with the moving world around me and my own legs moving. As soon as I get home and lock up the bike I pull out my phone use the Voice Recorder app to record everything I can think of in a stream of consciousness. It's all useful.
If you're looking for a walking target to hit, try for 150 minutes of exercise per week. That's what is recommended for brain health, and naturally, it will work for creativity as well.
As long as we are on the topic of creativity, let's not forget about the Default Mode Network. The Default Mode Network is active in your brain when you are daydreaming, looking out the window, and watching palm fronds blow in the wind. These moments seem filled with a luxury of emptiness, but the brain is working hard during these intervals. It is making connections, running life simulations, and some scientists believe it is sourcing material from recent memory and connecting the circuits for those memories to become long term. (Some scientists believe the Default Mode Network isn't doing anything significant, but I hope I never run into any of those scientists at a cocktail party because they sound boring.) Never underestimate the value of hanging around, watching the surf roll in, looking at traffic out the window, watching birds fly from one tree branch to another. Repose is important.
All too often we do not seize on moments of repose because we are doing something called "being busy." Waiting in line, walking somewhere, looking out at the mountains (I'm lucky — I have some of those) — these are all times that we are all too willing to be plugged in, listening to music, taking a phone call, taking in information. We take in a lot of information during the day, but how much of it do we process? How do we decide what we need in our steady-drip Information diet? The brain needs time to process and sort the important stuff from the not so important. Give your brain a break, provide space with repose, a walk, meditation, or some other way of introducing moments of low cognitive load.
You'll replenish the well of your ideas faster. Your writing will be enriched and be more pleasurable.
Thanks for reading,
Lee
Photo by Clint McKoy on Unsplash
(c) Lee Schneider 2023. Take care of each other. Subscribe.